Healing and Wellness for the Entire Family at the Northboro Chiropractic Center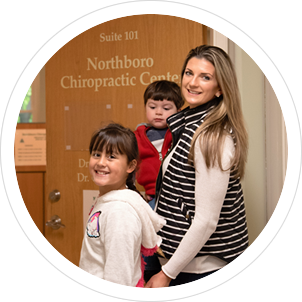 Since opening our doors in 1985, the Northboro Chiropractic Center has been helping area families get healthy and maintain their wellness through natural and effective chiropractic care. Dr. Karen Moriarty is passionate about seeing all ages restore their well-being through natural care by focusing on the health of the nervous system.
We educate every patient to understand that to live a life of well-being, we need to have a healthy spine and nervous system. Patients who come in regularly for chiropractic care often report greater overall health every year as their chiropractic adjustments help them deal with stress that they experience on a daily basis – physically, chemically and emotionally.
Many of our patients increase their enjoyment of life ever year through regular wellness care visits to our Northboro Chiropractor.

Pregnancy and Pediatric Care
Pregnant women under chiropractic care often experience a more comfortable pregnancy, smoother labor and delivery.
Pediatric chiropractic care supports your child's optimal health, growth and development.