About the Northboro Chiropractic Center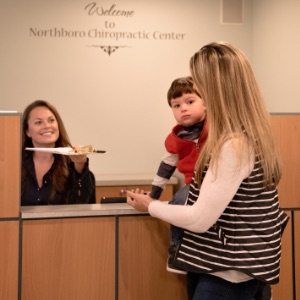 For over 100 years, chiropractic care has helped millions live healthier lives by understanding that the health of our spine and nervous system is primary to determining our level of overall health and vitality.
Northboro Chiropractic Center was founded by Dr. Karen Moriarty in 1984 to offer family-oriented chiropractic care. She is dedicated to improving the quality of our practice members' lives through state of the art chiropractic care and lifestyle education.
Our Practice Philosophy
Many conditions of illness, pain and fatigue are related to distortions in the spinal column (subluxations) that interfere with the function of the nervous system. Chiropractic care corrects these distortions, improving the function of the nervous system, allowing the body to heal itself.
In the words of Hippocrates; "Look well to the spine for the cause of disease".
At the Northboro Chiropractic Center, your care plan will also take into consideration the physical, emotional and chemical aspects of your lifestyle that are essential to enjoying true health and vitality.
Because we focus on healing your entire body, chiropractic care with the Northboro Chiropractic Center is about much more than just relief from pain-it is about optimizing health and vitality which inevitably can improve a variety of health concerns, from children with ADHD and autism to adults suffering from chronic health issues, illness and fatigue.
Discover the Northboro Chiropractic Center Difference
Our chiropractor often works with other like-minded practitioners to ensure the best possible results. Several are available in the same building, making our practice your center for greater wellness.
Our office carries a complete line of affordable, high quality, organic supplements. Dr. Karen is always available for complimentary nutritional consultations.
---
About Northboro Chiropractic Center | (508) 393-2513